Published May 7, 2012 on LawsuitInformation.org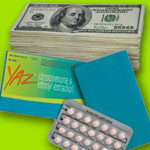 Settlements for plaintiffs who have experienced serious side effects associated with the popular birth control medications Yaz and Yasmin have reached into the millions, after hundreds of plaintiffs received Yaz side effects settlements recently. Yaz drug maker Bayer has agreed to pay out at least $110 million in order to settle 500 lawsuits involving Yaz blood clots.
This settlement news comes when the number of Yaz lawsuits that has already been filed has peaked at 11,000, with plaintiffs claiming that Yaz blood clots, Yaz strokes, and other dangerous side effects have plagued them. Drug maker Bayer has been battling Yaz side effects lawsuits for years, and plaintiffs are hoping now that they have started to settle with those who have filed suit against them many more settlements will be available in the near future.
FDA warnings affect Bayer
Earlier this month, the Food and Drug Administration ordered drug maker Bayer to strengthen warnings about Yaz side effects and Yaz blood clots on their products' labeling. This newly strengthened warning about the potential side effects associated with use of the extremely popular birth control medication could make patients think twice before using Yaz, Yasmin, and other drospirenone-based birth control methods.
Bayer has also agreed to pay Yaz settlements to the first wave of Yaz lawsuit plaintiffs. These lawsuits took place in the multidistrict litigation case assigned to the United States' District Court for the Southern District of Illinois.
More and more plaintiffs involved in Yaz litigation could see settlements in the future if Bayer's willingness to pay out in this case is nay indication. Bayer is likely to want to avoid the risks and costs associated with courts in the United States, as it is a German company, and mediation has been entered into in many cases because of this.
Bayer's settlements unconfirmed
Although the drug maker itself has not officially confirmed the exact amount in settlements, a spokesperson for the company acknowledged that they had paid off a number of plaintiffs, although she did not explicitly disclose the number or the amount of money involved.